"A funny but tough cat is your main character that you can dress up with quirky outfits, cool weapons and the ability to change the physical look of your cat."
The Cat, also known as The Player, is the main character in Cat Fights. It is your in-game avatar that you can control. It holds all the information on the player's in-game activities, including their Cat Coins and achievements, all the items they possess, and the levels they have done.
A player's account is similar to his or her character. The character is represented by an avatar that exists in-game. The avatar is customizable to allow the player to feel individual.
Character controls
Edit
Customization
Edit
Cats can wield several weapons. There are multiple weapon classes in Cat Fights. Players can buy weapons in the Cat store with Cat coins and achievements. For a total overview of the weapons, see the weapon page.
Finisher Monsters
Edit
Behind the Scenes
Edit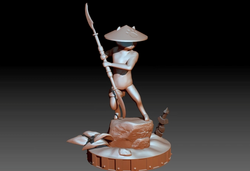 The Cat (as it is today) was designed by the 3D and art department of Flow Studios. After several brainstorm sessions Cat Fights was in productions.
The design of the cat has changed many times during production. From a toon, slippery cat it has evolved to the realistic martial-art cat that you are playing now.
Several weeks before Cat Fights went online, fans could win a real-life cat statue. The person with the most likes and shares on Facebook wins the 3D printed statue.
Community content is available under
CC-BY-SA
unless otherwise noted.